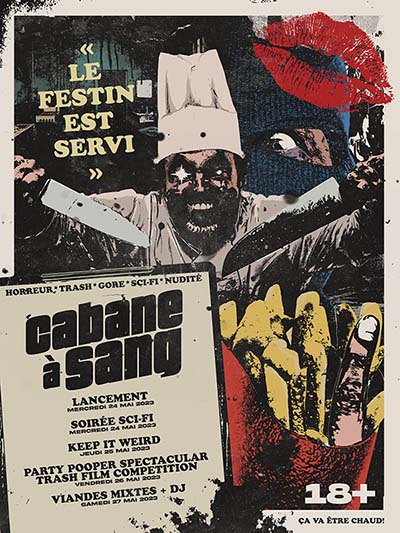 Party Pooper Spectacular Trash Film Competition
May 26th, 2023 @ 8:00 PM
Cinémathèque québécoise - 335 Boul. de Maisonneuve

On Friday, May 26th, the festival will present the latest batch of its Party Pooper Spectacular Trash Film Competition at the Cinémathèque Québécoise (335 de Maisonneuve Blvd. East) starting at 8pm.

The batch of this second edition is still kept secret. Participants must submit a horrific or trashy short film of a maximum duration of five minutes and with a production budget of less than $200. This year's theme: SEXY! Get ready to have your brains melt.

On the menu:
We Forgot About The Zombies by Chris McInroy • A Folded Ocean by Ben Brewer • A Sickness by Guy Soulsby • Escalation by Christian Bachini • $trip by Craig Ouellette
+ The films of the competition!
Programming